DUNA GROUP AND ITS CEO MARTA BROZZI CHOSEN TO REPRESENT EMILIAN COMPANIES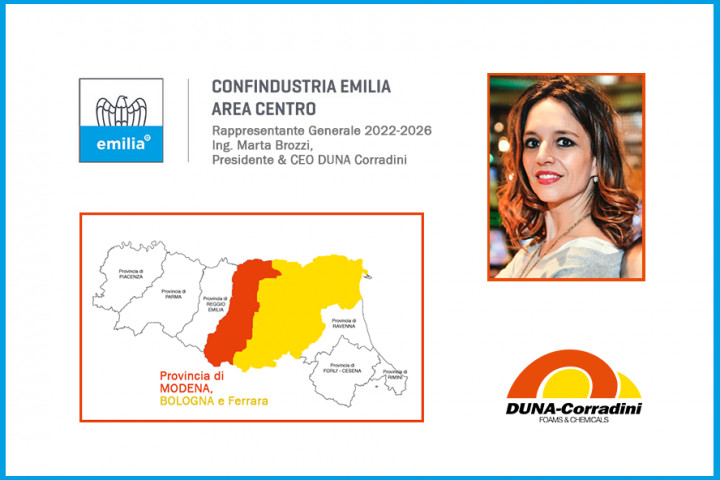 ---
On Friday, May 20, elections were held for the renewal of the Executive Bodies of Confindustria Emilia Centro: the Engineer Marta Brozzi, President and CEO of the DUNA Group, was elected as General Representative of the Association for the four-year period 2022-2026
Innovation, Ethics, Territory. These are the Values that have always inspired the DUNA Group, since 1957, the year of our foundation. Since then, the DUNA Group has come a long way, thanks to the development of new top-class products, the conquest of new markets, the creation of 3 new Branches around the world.
A story of growth and success made possible by the constant evolutionary tension, by huge and targeted investments, but above all by the Passion of the Founders and all the Collaborators, by the support of our Stakeholders and by the relation with the Community and the Territory that have always hosted us. For this reason, in 1995 DUNA was among the first companies to join Confindustria Modena, the Association for the representation, coordination and support of Companies in the Modena Manufacturing district.
Grown into Confindustria Emilia Centro in 2017, following the merger with Unindustria Bologna and Unindustria Ferrara, the Association now brings together small, medium and large companies from different production sectors and aims to support and promote its Associates, as well as contribute to the development of the socio-economic context where they operate.
The DUNA Group therefore welcomes proudly the news that Marta Brozzi, its President and CEO, has been elected General Representative of Confindustria Emilia for the four-year period 2022-2026. An important recognition of DUNA's commitment to its territory, an unmissable opportunity to contribute to the growth of the Emilian industrial district and the well-being of the local Community.
GO DUNA, GO MARTA, GO EMILIA!