Packaging analysis
Specialised in drop tests and cost/performance analysis to select the most performing and efficient packaging solutions
DUNAPACK® in-house Research and Development Laboratory provides a specialised consultancy service based on drop tests and cost/performance analysis to support customers in choosing the most suitable packaging for their needs. Thanks to state-of-the-art equipment, the multiannual experience of DUNAPACK® specialised technicians, the constant exchange with our customers, our R&D Laboratory manages to analyse the product features, packaging requirements, handling and shipping methods, and undertakes to carry out tests and comparative evaluations on the cost, performance and timing of various packaging systems.
The DUNAPACK® R&D Department performs physical tests on samples of the product to be packaged, eventually provided by the customer, and issues a final Laboratory Report with technical results and indications on the most efficient and high-performance packaging solutions. The DUNAPACK® range consists of three different packaging lines (the Foam in Place polyurethane foam system, the Air in Place cushions and the Paper in Place packaging), each designed for different product types and protection and shipping needs.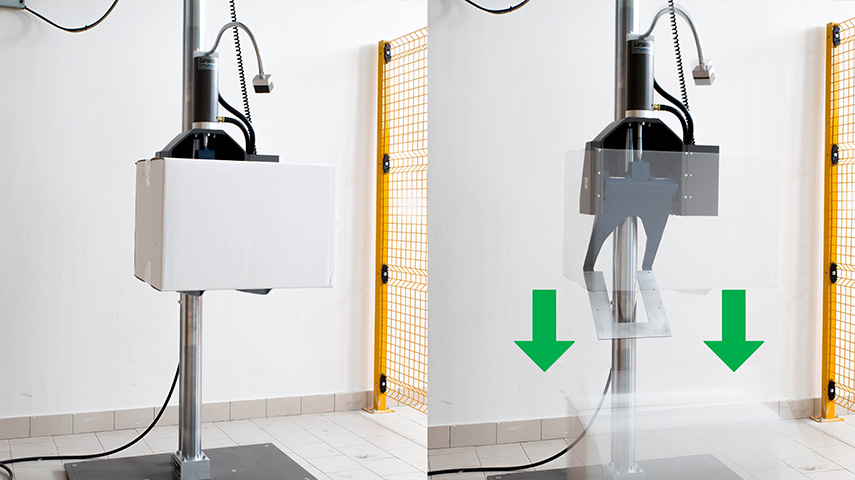 To verify the level of protection required during handling or transport, the DUNAPACK® Laboratory performs drop tests under procedures compliant with ISO 2248 and ASTM D 5276 international standards. A DROP TESTER is used to simulate the fall of the pack from different heights, while an accelerometer measures the acceleration during the impact. The gathered results are used to identify the most suitable material/packaging combination to absorb shocks and minimise damage to the packaged product in the event of accidental drops. The laboratory tests also focus on evaluating the time and cost of packaging and, upon request, DUNAPACK® technicians can suggest improvements to the type and size of boxes already in use by the customer.
The DUNAPACK® goal is to fully optimise the customer's packaging process, not only concerning the protection of the object but also considering the time and cost of packaging and handling. The aim of the specialised consulting, performance analysis and cost comparison services is to identify the most efficient and effective packaging solution for the specific requirements and design the optimal integration of the selected packaging system into the customer's system. During the installation of the packaging system at the customer's premises, DUNAPACK® specialists also provide training for operators through on-site demonstrations of machine functions and packaging options available.