DUNA alongside CarpInScienza 2022: "Visions" for a sustainable Tomorrow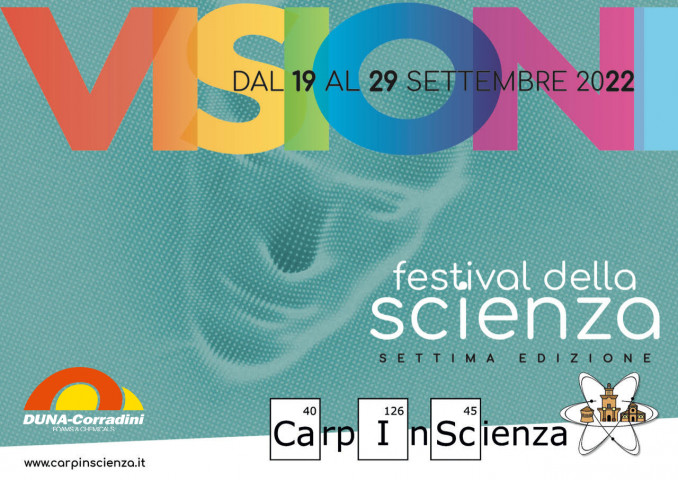 ---
From 19 to 29 September CarpInScienza will be back, the Festival dedicated to Science and Technological Innovation, organized by the Secondary Schools of Carpi with the sponsorship of the DUNA Group

Big challenges require teamwork. This is well known by the 4 Highschools of Carpi, Fanti, Vallauri, Da Vinci and Meucci, who once again networked to organize CarpInScienza, the city festival dedicated to Science and Technological Innovation.
Now in its seventh edition, CarpInScienza represents a fixed appointment for the city of Carpi, able to record over the years over 44 thousand attendance and put on track more than 100 thematic conferences. A continuous growing success, in spite of the pandemic, thanks to the variety of events organized and the value of international guests called to awaken curiosity on traditionally difficult and not very "popular" topics.
At CarpInScienza 2022 we will talk about "Visions", new perspectives of Sustainability, Environmental Transition and New Economy, made possible by the latest technological and scientific innovations. Once again this year scholars and popularizers of caliber will take the stage, including Carlo Alberto Carnevale Maffè, Economist and Professor at the School of Business Management of Bocconi University, Alessio Figalli, 2018 Fieids Medal for mathematics and Professor at the Politecnico of Zurich, the Astrophysicist Luca Perri, one of the greatest scientific popularizers at national level, the writer Massimo Polidoro, Cicap National Secretary, the life explorer Chiara Montanari, included by Startup Italia among the 150 women who "contribute significantly to the innovation of our Country", and the Aerospace Engineer Morena Bernardini, considered the "Queen of European missiles".
The DUNA Group is proud to support once again this initiative of scientific, technological and cultural dissemination addressed and appreciated by the entire local community.
For further info on program, speakers and attendance rules of the 2022 edition, click here